Application forms have been sent to those who are interested in working for the Pakistan Medical Commission (PMC) in 2022. Candidates from all across Pakistan who meet the eligibility requirements may apply for these government jobs in Pakistan 2022 by following the application method stated by the organisation and finishing the recruiting process. Pakistan Medical Commission Jobs 2022
The Pakistan Medical Commission is seeking qualified and suitable candidates for a number of newly created positions. Jobs at the Pakistan Medical Commission PMC 2021 – www.pmc.gov.pk were first reported by the Daily The Nation on December 14th, 21021. All the current and forthcoming job openings from the PMC have been listed on our site.
Pakistan medical commission(PMC)Contact number
Phone Numbers PMC
Pmc lahore contact number (042) 99230105
Pcm Islamabad Contect Number (051) 9106175
Pakistan Medical Commission(PMC) Jobs Advertisement Latest 2022
| | |
| --- | --- |
| Posted on: | 14th December 2021 |
| Location: | Islamabad,Lahore |
| Education: | Bachelor, BS, Master, MBA, MBBS, MS |
| Last Date: | December 16, 2021 |
| Vacancies: | 15 |
| Company: | Pakistan Medical Commission |
| Address: | HR Department, Pakistan Medical Commission, Mauve Area, G-10/4, Islamabad |
PMC JOBS 2022
Vacancies Pakistan Medical Commission Jobs 2022
Assistant Manager Conduct Skills
Assistant Manager Disciplinary
Assistant Manager Entrance Exams
Assistant Manager Exit Exams
Assistant Manager Tribunal
Business Analyst
Legal Associate Tribunal
Manager Exams Conduct
Manager Exit Exams
Manager Tribunal
Office Assistant
Resident Engineer
Senior Manager Networks & Systems
Senior Manager Software Engineering
Senior Software Engineer
Software Engineer
How to Apply for Pakistan Medical Commission PMC Jobs 2022?
To be considered, applications must be sent by the specified deadline at the following address.

There are no TA/DA requirements for testing or interviews.

Short-listed candidates will only be contacted for an interview.

There will be no consideration given to applications submitted after the deadline.

The right channels should be followed by government workers.
Only online applications sent through PMC Website Career Section will be considered for employmen
Candidates can fill the online application form at www.pmc.gov.pk
What is the last date of PMC registration 2022?
Sign up for an account at mdcat Official website.pmc.gov.pk.
Schedule your test by selecting an MDCAT Examination time window on the PMC website between August 17 and August 21 of 2021. Exams will be offered twice a day from August 30 to September 30 of 2021. Exam dates will be determined based on availability and priority given to the date of the student's enrollment.
In order to register, applicants will be supplied with one practise test.
There will be sample questions in all topics for candidates to practise on.
Please click on the user guide button on the mdcat.pmc.gov.pk website for further information on how to register for the MDCAT test.
The PMC MDCAT Registration 2021 TEST Date | How to Apply Online
On the 25th of August 2021, the results of the federal board SSC 2 matriculation examination will be made public. In this case, alterations are possible.
PMC MDCAT 2021-2022 Late Registration.
The PMC has opened online registration for MDCAT Session 2021-2022. The MDCAT Test will be on November 15, 2020. PMC released MDCAT registration application processes. PMC just released the MDCAT Syllabus and Entry Test Sample. The students rejected the PMC's curriculum. Students seeking MBBS and BDS admission blame PMC for releasing Syllabus barely one month before MDCAT.
PMC MDCAT:
PMC opens online registration today, with a deadline of August 21, 2021. So pupils only have one week.
Students may register online at mdcat.pmc.gov.pk or PMC (Pakistan Medical Commission Islamabad).
Please proceed after registration.
Step 3: Upload challan payment.
Fourth, submit your application.
Step 5: Print and sign your application.
PMC MDCAT Registration 2022 Test Date | How to Apply Online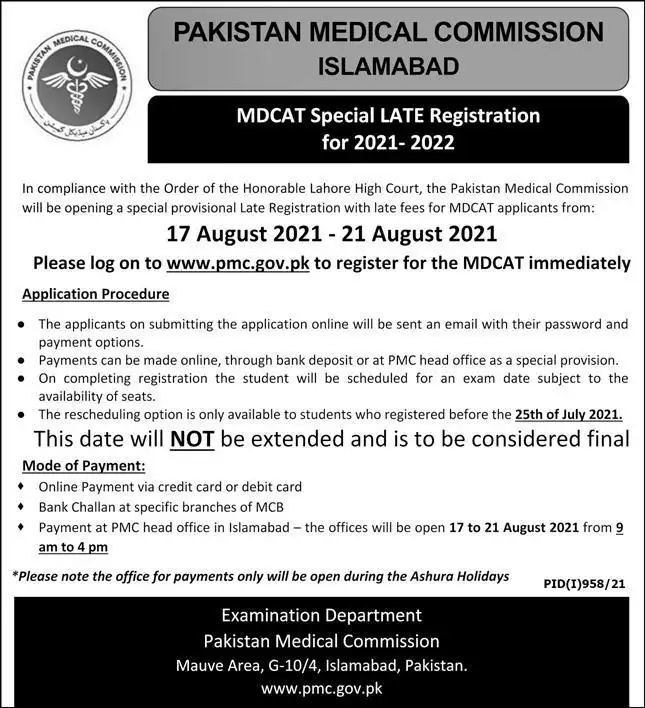 How To apply online PMC registration 2022?
students may go to pmc.gov.pk and choose MDCAT online portal, then register and submit application form online.
Nom de CNIC/B-Form/passport; numéro de téléphone et d'email; (veuillez indiquer les numéros de téléphone et d'email que vous acceptez
The login credentials will be supplied via email. Login to your account using the username and password above to fill out the application form (personal and educational information).
Recent passport picture with blue and white backdrop.
NICOP or CNIC/B Form.
Students must then submit a fee challan.
Candidates must submit the fee challan issued via online application in any branch of HBL, ABL, or MCB by November 2, 2020.
By login back into their MDCAT Portal Account, students must scan and attach their paid fee challan.
After paying fees at the bank, the challan form must be attached and submitted online.
The technology will allow students to download an application form. National Testing Services Pakistan Plot No. 96 Street #4 h-8/1 Islamabad.